Anastrozole
Alias: Arimidex
CAS No: 120511-73-1
MF: C17H19N5
MW: 293.37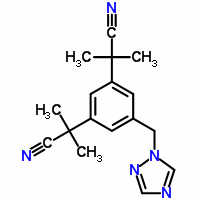 Melt point: 81-82℃
Purity: 98%
Appearance: white powder.

Applications:
The drug is appropriately used when using substantial amounts of aromatizing steroids, or when one is prone to gynecomastia and using moderate amounts of such steroids. Arimidex does not have the side effects of aminoglutethimide (Cytadren) and can achieve a high degree of estrogen blockade, much moreso than Cytadren. It is possible to reduce estrogen too much with Arimidex, and for this reason blood tests, or less preferably salivary tests, should be taken after the first week of use to determine if the dosing is correct.
The trial suggested that anastrozole is the preferred medical therapy for postmenopausal women with localized estrogen receptor (ER) positive breast cancer.

Specifications:
Items

Standard

Results

Description

White crystalline powder

Complies

Identification

IR
HPLC
Reactive
Conform with standard IR
Conform with standard HPLC
Conform

Solubility

Freely soluble in methanol,acetone,ethanol and tetrahydrofuran.And very soluble in acetonitrile

Complies

Total Impurity

max.0.5%

0.18%

Total Unspecified Impurity

max. 0.2%

0.08%

Individual unspecified impurlty

max. 0.1%

0.05%

Related compound B

max. 0.2%

0.07%

Related compound C

max. 0.2%

0.04%

Related compound D

max. 0.1%

0.05%

Related compound E

max. 0.1%

0.06%

Limit of cyclohexane

max. 0.08%

ND

Limit of ethylacetate

max. 0.1%

0.07%

Melting point

81.0~84.0℃

82.5~83.2℃

Water

max. 0.3%

0.21%

Residue on ignition

max. 0.1%

0.07%

Heavy Metals

max.0.001%

Complies

Assay(HPLC)

98.0%~102.0%

99.8%

Storage

Cool and dry

Conclusion

It complies to USP32 .